The Extraordinary Presence of God
Contributor Beverly Sce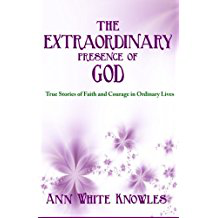 Need a lift for living? The Stories in The Extraordinary Presence of God are about people from all walks of ife who will encourage and inspire those who are seeking a closer walk with God or who are going through trials of their own.
The writers share how God has worked in thier lives to direct, protect, heal or even preserve life. All have experienced the extraordinary preence of God in their lives in the midst of challenging circumstances.
The subjects of the stories range in age from babies to seniors. The lifestyles include everything from missionaries to a military wife and all in between-even a cat.